Night at the Museum: Secret of the Tomb
PG, Comedy, 98 min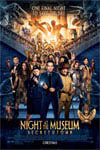 Watch Trailer
When the magic of The Tablet of Ahkmenrah begins to die out, endangering the lives of the museum characters, Larry (Ben Stiller) has one day to figure out why and travels to London on a quest to save the magic before it is gone forever.
Theodore Roosevelt (Robin Williams), Jedadiah (Owen Wilson), Octavius (Steve Coogan), Attila the Hun (Patrick Gallagher), Sacagawea (Mizuo Peck), Dexter the Capuchin Monkey and Lancelot (Dan Stevens) team up to help Larry.
The Hobbit: The Battle of the Five Armies 3D
PG, Fantasy, 145 min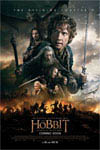 Watch Trailer
When we last left Bilbo (Martin Freeman) and Thorin's (Richard Armitage) company, they had just retaken Erebor from the dragon Smaug, but at a terrible cost as the dragon headed towards Laketown to take his revenge. While Bard (Luke Evans) is faced with defeating the dragon to save his home, Bilbo and the dwarves are forced to look for the Arkenstone on command of a power-hungry Thorin, whose gold sickness gets worse by the hour.
As the dwarves dwell in the mountain, forces of Orcs and Elves descend on them, bringing possibility of a war that threatens all of Middle-earth. Bilbo must take it upon himself to end the conflict, but his actions may come at a terrible cost.