Fury
14A, Drama, 135 min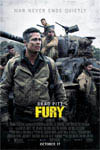 Watch Trailer
April, 1945. During the last months of WWII, a battle-hardened army sergeant named Wardaddy (Brad Pitt) takes command of a five-man team who pilot a Sherman tank named Fury on a deadly mission behind enemy lines. Outnumbered and outgunned, they have to defeat all odds in an attempt to strike down Nazi Germany.
Ouija
14A, Horror, 89 min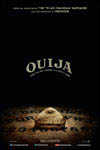 Watch Trailer
Laine Morris (Olivia Cooke) convinces her group of friends to use a Ouija board to try to make contact with their recently deceased friend Debbie (Shelley Hennig). They return to where Debbie died in an attempt to reach her.
However, they get more than they signed up for when they end up awakening the dark spirits of the ancient board. They discover disturbing film footage Debbie recorded of herself after she found the Ouija board, leading up to her ultimate brutal death.
Now the friends are being haunted by the same darkness and they need to break the connection before they wind up like Debbie. However, the only way to break the connection is to play the game again.