Furious 7
14A, Action, 137 min
Watch Trailer
Han (Sung Kang) is killed in revenge on the streets on Tokyo by Deckard Shaw (Jason Statham), Owen Shaw's (Luke Evans) older brother.
Shaw turns his sights on Brian (Paul Walker) and Dom (Vin Diesel) as they team up for one last ride. To protect those they love, and fight against a man bent on vengeance, it will be a fast and furious ride to the end.
Home
G, Family, 94 min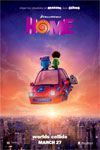 Watch Trailer
After an alien race called the Boov invades Earth to make it their new home, a resourceful human girl named Tip (voiced by Rihanna) avoids capture and embarks on the road trip of a lifetime with a banished Boov named Oh (voiced by Jim Parsons).