Mad Max: Fury Road
14A, Action, 120 min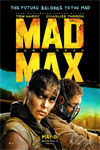 Watch Trailer
Max Rockatansky (Tom Hardy) is captured by a group loyal to the warlord Immortan Joe (Hugh Keays-Byrne), who tyrannizes his people, doling out water in small amounts to keep them desperate.
Imperator Furiosa (Charlize Theron), whom he believes is loyal to him, helps several young women, who are forced to bear his children, escape. Once he realizes what she's up to, he and his army set out after her, using Max as a blood supplier for Nux (Nicholas Hoult), one of his loyal supporters.
During a battle, Max manages to escape and he teams up with Furiosa as they both desperately try to get away from Joe and save the women, one of whom is pregnant.
Pitch Perfect 2
PG, Comedy, 115 min
Watch Trailer
The Barden Bellas are back and this time around, the film focuses on Beca (Anna Kendrick) and Fat Amy (Rebel Wilson) as they navigate through their senior year. When Fat Amy has an embarrassing wardrobe malfunction on live TV, the team is disgraced and banned from domestic competition.
The only way for the team to redeem themselves is to win the World Championships, to be held in Copenhagen. They're joined by newbie Emily (Hailee Steinfeld), whose mother (Katey Sagal) once sang with the troupe, in order to win against German reigning champions Das Sound Machine.