Cinderella
G, Family, 112 min
Watch Trailer
Ella (Lily James), a daughter of a merchant who remarries following the death of his wife, is eager to support her father as she welcomes her new stepmother (Cate Blanchett) and her daughters Anastasia (Holliday Grainger) and Drisella (Sophie McShera) into their house. But, when Ella's father unexpectedly passes away, she finds herself at the mercy of a cruel new family.
One day, Ella meets a stranger in the woods. Unaware that he is a prince, Ella finally feels she has met a kindred soul. When the Palace sends out an open invitation for all maidens to attend a ball, Ella realizes it's her chance to once again see the charming Kit (Richard Madden). However, her stepmother forbids her to attend. But a kindly beggar woman (Helena Bonham-Carter) steps forward and changes Cinderella's life forever.
The Divergent Series: Insurgent 3D
PG, Thriller, 119 min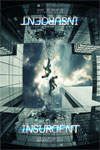 Watch Trailer
When Tris (Shailene Woodley) and Four (Theo James) are exposed as Divergents, they go on the run from Jeanine (Kate Winslet), the ruthless leader of the Erudite faction, along with Caleb (Ansel Elgort), Peter (Miles Teller) and Four's father Marcus (Ray Stevenson).
They find refuge at Amity and Tris tries to cope with her guilt at having killed Will, even though it was in self defense. The group, especially Tris and Four, find it difficult to blend into Amity's easygoing ways and when they are discovered, they have to go on the run again.
Tris tries to find out what the secret was that her parents died to protect - and once she finds out what it was, it will explain why Jeanine is so bent on capturing her.
Based on the bestselling young adult novel Insurgent by Veronica Roth.