Fury
14A, Drama, 135 min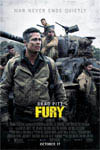 Watch Trailer
April, 1945. During the last months of WWII, a battle-hardened army sergeant named Wardaddy (Brad Pitt) takes command of a five-man team who pilot a Sherman tank named Fury on a deadly mission behind enemy lines. Outnumbered and outgunned, they have to defeat all odds in an attempt to strike down Nazi Germany.
The Judge
14A, Drama, 141 min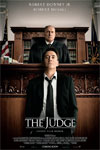 Watch Trailer
When successful big city lawyer Hank Palmer (Robert Downey Jr.) returns to his hometown for his mother's funeral, he finds out that his estranged father (Robert Duvall), esteemed Judge Joseph Palmer, is suspected of murdering a former defendant whom he failed to convict, and who went on to commit a horrific crime.
Hank sets out to discover the truth, and along the way, reconnects with the family he walked away from years before.