Ricki and the Flash
PG, Drama, 101 min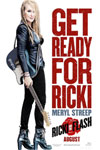 Watch Trailer
Ricki (Meryl Streep) is an aging rock star who abandoned her family to chase fame and stardom. The sacrifice delivered the stardom she craved, but it cost her a relationship with her family.
After years of rocking with her band, the Flash, her life is interrupted by a call from her ex-husband (Kevin Kline). She discovers their estranged daughter (Mamie Gummer) is going through a tough situation and decides to head back home. Given the opportunity to reconcile and make things right, Ricki must again choose between the music she loves and the family she lost.
Straight Outta Compton
18A, Drama, 157 min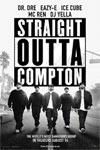 Watch Trailer
STRAIGHT OUTTA COMPTON traces the meteoric rise and fall of N.W.A. -- five young men who translated their experiences growing up in Compton, California in the mid-1980s into brutally honest music that rebelled against abusive authority, revolutionizing music and igniting a cultural war.